NYS Seeks Injunction Against Trump's Federal Agency
Says State Sovereignty and Rights of New Yorkers Natural Resources At Stake
Enviros Demand Protection of Water, Eagles, and Climate
New York City: As the Federal Energy Regulatory Commission (FERC) emboldened under a Trump Administration tries to usurp New York State's sovereign authority over the federal Clean Water Act, the fate of a pair of bald eagles in upstate New York along with communities around the country,  hangs in the balance.  
The case involves a 7.8 mile pipeline project proposed by Millennium Pipeline Company, a subsidiary of TransCanada, in order to fuel the controversial CPV Valley Power Plant under construction in Orange County NY. While construction of the power plant is nearly complete, the pipeline remains mired in disputes over impacts and legal challenges.  
The substantive case before the court involves the question of the balance of power between two equal federal statutes, the Natural Gas Act and the Clean Water Act, as well as between the federal government and states. However, the injunction may rest on the pair of nesting eagles and the federal Bald and Golden Eagle Protection Act.
The pipeline company recently acknowledged the existence of an eagles' nest near the pipeline alignment which they described as likely "abandoned".  Yet they are also using this "recent discovery" to push the court to lift the stay arguing that because of this "unoccupied nest" they must start construction by December 7th and complete it by December 31 or the power plant company could go "bankrupt", arguing that species protection laws would prevent construction from beginning until November of the following year.
However, Pramilla Malick, Chair of Protect Orange County, a community organization leading the opposition to both the power plant and pipeline and one of the intervenors in the case says, "Millennium is too late. The Eagles have landed". In fact, she says that they have always been there. "The nest is occupied and the company's failure to identify them is emblematic of its flimsy surveys and FERC's even more shoddy environmental review."
During the hearing when Millennium made the eagle timeline argument one of the judges quickly referenced the evidence submitted by intervenors that the eagles are already present! Millennium answered by willfully misrepresenting the eagle protection laws and asserting that they are limited to the breeding season which does not begin until January. This is blatantly false said Malick. The nest is now considered "active" and it is protected. Pipeline companies know to stay clear of eagles nests.
Protect Orange County and Landowner Intervenors presented video evidence to the court showing that the eagles are in attendance preparing for their breeding season. They accuse Millennium of making false statements stating that both the eagles and the nest have been a well known presence in the community for years.  Immediately after the hearing, they released a video taken on December 1st, showing a bald eagle flying out of the nest.  Their presence triggers the full protection of the federal Bald and Golden Eagle Protection Act which makes it an imprisonable crime to "disturb" or "harass" bald eagles and engage in "any activity that may cause them to abandon their nest".  Malick says that the experts they conferred with said pipeline construction would absolutely cause them to abandon the nest.  
In a statement read at a press conference after the hearing, Malick urged the court "not to be blackmailed by the company." She further stated, "From the very beginning CPV and Millennium have attempted to circumvent environmental laws and regulations, and they have no one but themselves to blame for their financial predicament.  This is a classic case of putting the cart before the horse. The people and eagles should not have their rights sacrificed because of the failure of CPV and Millennium to follow the proper process. Moreover, their pipeline project and power plant are contrary to the public interest."
Opponents claim that even when the power plant was approved 9 years ago they used the same pressure tactics to get approvals which were also riddled with the same failures to identify threatened and endangered species habitats. The same consultants, TRC, conducted the surveys for both projects.
NYS argued that the stay should be maintained in order to prevent irreparable damage from pipeline construction including tree clearing and soil removal and the likelihood that the state will prevail on the merits of states rights, "Construction could negatively impact water quality in waterbodies crossed by the pipeline by increasing erosion, turbidity, and water temperatures.", they said in their briefs.
Last month the New York Attorney General's Office, on behalf of the New York State Department of Environmental Conservation (NYSDEC), filed for an emergency injunction with the Second Circuit Court of Appeals after the Federal Energy Regulatory Commission (FERC) issued a Notice to Proceed with Construction despite pending motions for rehearing by the NYSDEC and Intervenors before the Commission over its earlier order deeming New York State's authority under the Clean Water Act waived. FERC claimed that NYSDEC failed to meet a one year deadline.
The judges grilled the NYS attorney extensively on the timeline question asking them "why didn't you just issue them a friendly denial" within the one year time period. DEC argued that any denial issued must be substantiated to hold up in court.
The Federal Clean Water Act authority is specifically delegated to states by Congress. In August the NYSDEC denied the company's application for a water quality certification "in part" due to a "change in the law" citing a recent ruling by the D.C. Circuit Court in Sierra Club v FERC requiring that FERC conduct a downstream greenhouse gas analysis for pipelines purposed to serve new gas-fired power plants. FERC rejected DEC's motion to re-open the record and conduct an analysis. So DEC then denied the permit within what it argues is a valid one year timeframe.
FERC issued the unprecedented waiver of state authority shortly after Trump nominees Neil Chatterjee and Robert Powelson were confirmed giving the Commission a quorum after several months of operating without one.
Acting FERC Chairman Neil Chatterjee recently expressed frustration that American citizens like Actor, James Cromwell, have been able to use environmental and state laws to block pipeline projects. Activists don't apologize firing back that FERC is a reckless rubber stamp agency that is destroying communities across the country. Malick says that Chatterjee's comments reveal his contempt for the same environmental laws his agency is supposed to enforce.  (James Cromwell's response is below)
Statements by both national and community groups reflect the widespread public interest in the NYSDEC prevailing in this matter:
"CPV & Millennium Pipeline represent a disastrous policy of embracing fracked gas infrastructure that does not serve the public's long term interests. These projects are not only unwanted, but they pose a threat to our health and the environment."  George Billard of Sullivan County Residents Against Millennium (SCRAM)
"Rushing to build a pipeline on a rapidly warming world is the highest folly–we should be rushing as fast as we can to build down the fossil fuel structure that is taking us, if not to hell, then to a place of a similar temperature." Prominent climate leader and founder of 350.org, Bill McKibben
"The Valley Lateral case will set important precedent about whether states can invoke their authority to protect people, wildlife, and water despite the federal government's ongoing attempts to usurp that authority.   We support the community standing up to protect its rights and commend the State and the New York Attorney General's efforts to preserve New York's environmental policies from federal attack." Richard Webster, Legal Director, Riverkeeper
Although Bergen County may seem far afield from Orange County, we realize that these pipelines connect, that groundwater contamination does not know political boundaries, and that farmland feeds us all.  We stand with Protect Orange County in encouraging New York, as we encourage New Jersey, to protect the public interest in clean water, clean air, local food, and even a family of eagles—our national symbol—preparing to make their seasonal home on this land.  Every dollar spent on this project is a dollar stolen from our clean-energy future. Occupy Bergen County (N.J.)
"For more than three years Beyond Extreme Energy has been highlighting the role of FERC, the Federal Energy Regulatory Commission, in rubber-stamping and fast-tracking fracked gas pipelines, compressor stations and other infrastructure that is destructive to communities and to our planet Earth. But in the case of the Valley Lateral Pipeline, FERC has outdone even its normal horrible record by usurping the authority of New York State to deny a water quality permit to the Millennium Pipeline Company. Allowing this decision to stand would set a dangerous precedent and therefore must be reversed." Melinda Tulhus, Beyond Extreme Energy
Chairman Chatterjee paid us such a fulsome compliment concerning our disruption of FERC's rubber-stamp approval of the CPV lateral pipeline that I feel obliged to respond. He described our resistance to the commission's egregious over-reach in disregarding New York State's right to regulate the fracking industry's negative impact on our air, water and the climate, as "focused and sophisticated." I heartily agree. But like the commission he chairs, he got most of the rest of it wrong. We are not a "well funded, sophisticated, national environmental organization" that can afford to "hire good lawyers" to file "clever lawsuits." We are a grassroots organization of ordinary citizens, who through perseverance and perspicacity, have learned "how to use all the levers of federal and state law to frustrate pipeline development." After all, that is what environmental laws are there for, to protect us from a rapacious and polluting industry that puts profits before people. I may be a "C-list movie star," but I have never acted as badly as Mr. Chatterjee's disingenuous and bloviating performance as "The Chairman" in the dog and pony show known as "FERC." My advice to you, Mr. Chatterjee, is stick to the role of "Errand Boy." There are no small parts, only small actors.  Actor and Activist James Cromwell
---
Crowd Follows Former Cuomo Aide Facing Corruption Charges As He Appears in Court
Percoco accused of taking bribes for construction of CPV power plant

.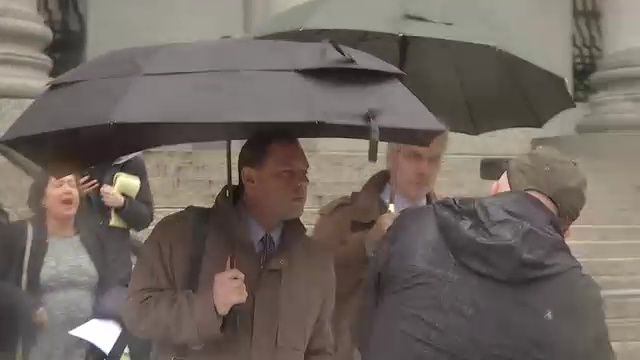 A former top aide to Governor Andrew Cuomo had to appear in federal court Thursday as he prepares to be tried on corruption charges, but all of the drama occurred outside of the courtroom. NY1's Courtney Gross filed the following report.

.
Joe Percoco is used to organizing entourages, not having one.

.
A crowd came to Lower Manhattan from Orange County in the Hudson Valley. It followed him in the rain from federal court all the way to the subway, shouting, "Shame!"

.
The former aide to Governor Andrew Cuomo is facing bribery charges in a sweeping corruption scandal. Percoco is accused of using his state position to try to assist several businesses in exchange for thousands of dollars in bribes.

.
He had a routine court appearance on Thursday. When he left the courthouse, it turned somewhat chaotic.

.
.
Percoco allegedly accepted bribes from a former executive at a power company, known as Competitive Power Ventures. The company is currently building a natural gas power plant in Orange County.

.
"We believe there is enough evidence to indicate that yes, this was a project built on bribery, and it needs to be shut down immediately," said one protester

[Pramilla Malick]

.

,
Percoco stayed silent the entire time.

.
Earlier in the courtroom, defense attorneys were trying to convince the judge to have two separate trials. Percoco has seven co-defendants, and their charges cover several schemes across the state.
.


*   *   *   *


.
Barry Bohrer, attorney for Joe Percoco said "Mr. Percoco looks forward to his day in court, whenever that day may be," Bohrer said.

.
Until then, he may want to stay away from Orange County.
.
---
.
He might want to steer clear of climate defender Pramilla Malick too!
.
.
---
Climate Activists James Cromwell And Pramilla Malick Oppose CPV Fracked-Gas Power Plant
By JOE DONAHUE • JAN 13, 2016
SHARETwitter Facebook Google+ Email
Climate activists rallied and marched at the State Capitol in Albany this morning to demand action on the climate – part of their State of the Climate Address.
Speakers included Oscar-nominated actor James Cromwell, a long time political activist, who was arrested last month protesting the CPV power plant and fellow activist Pramilla Malick who is from Protect Orange County. They join us to discuss the climate, the plant and the importance of activism.