Crowd Follows Former Cuomo Aide Facing Corruption Charges As He Appears in Court
Percoco accused of taking bribes for construction of CPV power plant

.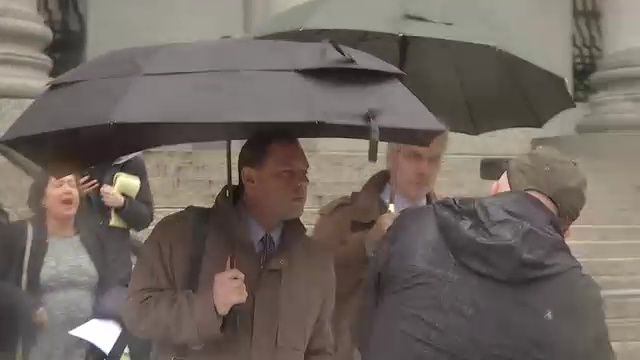 A former top aide to Governor Andrew Cuomo had to appear in federal court Thursday as he prepares to be tried on corruption charges, but all of the drama occurred outside of the courtroom. NY1's Courtney Gross filed the following report.

.
Joe Percoco is used to organizing entourages, not having one.

.
A crowd came to Lower Manhattan from Orange County in the Hudson Valley. It followed him in the rain from federal court all the way to the subway, shouting, "Shame!"

.
The former aide to Governor Andrew Cuomo is facing bribery charges in a sweeping corruption scandal. Percoco is accused of using his state position to try to assist several businesses in exchange for thousands of dollars in bribes.

.
He had a routine court appearance on Thursday. When he left the courthouse, it turned somewhat chaotic.

.
.
Percoco allegedly accepted bribes from a former executive at a power company, known as Competitive Power Ventures. The company is currently building a natural gas power plant in Orange County.

.
"We believe there is enough evidence to indicate that yes, this was a project built on bribery, and it needs to be shut down immediately," said one protester

[Pramilla Malick]

.

,
Percoco stayed silent the entire time.

.
Earlier in the courtroom, defense attorneys were trying to convince the judge to have two separate trials. Percoco has seven co-defendants, and their charges cover several schemes across the state.
.


*   *   *   *


.
Barry Bohrer, attorney for Joe Percoco said "Mr. Percoco looks forward to his day in court, whenever that day may be," Bohrer said.

.
Until then, he may want to stay away from Orange County.
.
---
.
He might want to steer clear of climate defender Pramilla Malick too!
.
.
---
Climate Activists James Cromwell And Pramilla Malick Oppose CPV Fracked-Gas Power Plant
By JOE DONAHUE • JAN 13, 2016
SHARETwitter Facebook Google+ Email
Climate activists rallied and marched at the State Capitol in Albany this morning to demand action on the climate – part of their State of the Climate Address.
Speakers included Oscar-nominated actor James Cromwell, a long time political activist, who was arrested last month protesting the CPV power plant and fellow activist Pramilla Malick who is from Protect Orange County. They join us to discuss the climate, the plant and the importance of activism.