The Blued Trees project is an international artwork to save the environment
Blued Trees, will have a world and European premiere in "Gaia: Resonant Visions,' HOME Cinema and The Whitworth Art Gallery, Manchester, UK August 2015.
The Blued Trees conceptual symphony and site-specific ecological art is filing for protection copyright against eminent domain takings by fossil fuel corporations in Peekskill, NY.  Additional participants are invited to "make waves," by joining a Greek Chorus.
In February 2015, a team of New York State residents, angered by the abuse of eminent domain in service to fossil fuel corporations and frustrated by the lack of success using prescribed methods, were inspired to use art and copyright law to counter this abuse.
They enlisted eco-artist Aviva Rahmani who created the Blued Trees Symphony
The Summer Solstice Blued Trees launched June 21, 2015 as as an overture to a public symphonic opera. It took place within view of a public road in Peekskill, New York, on private land, along a 1/3 mile measure of 50 woodland acres in the path of the proposed high-pressure Algonquin Incremental Market (AIM) pipeline expansion. AIM's expansion would transport volatile fracked gas within one hundred five feet of the Indian Point nuclear facility.
Approximately twenty trees were painted along the AIM corridor over the course of two days for the launch. About twenty-six participants included local children and elderly residents, and others who joined from as far away as Switzerland, as well as members of the Earth Guardians. After the painting, participants performed a chorale as they passed through the woodland. When the human performers left, the installation remained as a permanent work of art. A Greek Chorus launched in simultaneous international locations, including Lisbon, Portugal and Seattle, Washington.
Blued Trees asserts the language of the Visual Artists Rights Act (VARA), for the moral rights of the art over condemnation of private land. In Peekskill, pipeline construction would threaten the rights of Blued Trees. The art cannot be destroyed by moving, or otherwise destroying the trees with which it was created, without infringing on VARA. Protecting Blued Trees as a work of art will test corporate eminent domain takings in the name of "public good" in the judicial system.
If that copyright suit is successful, it could impede the proposed AIM expansion. Blued Trees initiated a conversation about public good and morality, earth rights and environmental justice.
Help Us Make Waves!
Everyone who understands that continued mining and use of fossil fuels is a suicidal course for all life on the planet is encouraged to participate in the Blued Trees Symphony as members of a reverberating "Greek Chorus." Any willing landowner may join the chorus by painting a wave "note" on ONE tree or more, preferably roadside for visibility.
To join the Chorus send a photo of your "blued" tree with GPS coordinates* to Rahmani who will continue — throughout 2015 — to gather and map your Blued Trees wherever they resound.
---
Preview comments for Blued Trees overture film:
"It is powerful and beautiful." –Betsy  Damon, ecological artist
"Aviva Blued Trees is a brave and consequential work. It's remarkable and compelling in this juxtaposition of luscious aesthetics and desperate ecological threats." -Carolee Schneemann, performance artist
"We need nature – now nature needs us." – Nancy Vann, property owner
"How exciting to see you walking down the woodland path in defense of a bunch of trees!" -Alison Knowles, Fluxus artist
"the images are beautiful, the camera work excellent, the idea great!" -Anthony Ramos, videographer and painter
"… good and slow enough to get the point without the emotionalism that has sparse content. Simple, common sense. Fast and speedy is what got us into this mess." R. Eugene Turner, ecological scientist
"Very cool. Such a soothing artistic video for such an in your face bold type of problem/issue." –Crystal Day, film student
"In Latin, conspire means to "breathe together," which is what we're doing when we work, organize as a team in harmony. The notes of Blued Trees also require an in-breath to sing which is what we all did at the June 21st launch." Gusti Bogok, performer in Blued Trees overture
"Love the soundtrack. Elegiac and ominous. Good editing. Film was informative and moved at a good pace. Thought the map was very important. Need it to visualize how close the pipeline will come to Indian Point. Seems incredible." –Marcia Annenberg, artist
To view the film, go to:
---
Nine Artists Respond to Climate Change
SEP 22ND, 2015 1:44 PM
Actionable measures on energy-usage will meet their fate this week, with United Nations talks and public protests planned as part of Climate Week NYC. Climate change is arguably the most pressing sociopolitical issue of our time, with famine, poverty, and mass-relocation hanging in the balance. The romantic, rambling idylles and shimmering rivers of J. M. W. Turner and Caspar David Friedrich feel as quaint now as they were foreign to viewers at the time of their unveiling, viewers accustomed to Earth being represented as debased and unpredictable, an unruled beast man ached to conquer. Our contemporary landscape, too, feels foreign: seas are rising, fires spreading, and ice melting. It's a process unseen by the majority of us across the globe who live in urban environments. But artists of today have internalized this fraught relationship and are responding in kind.
  *   *   *   *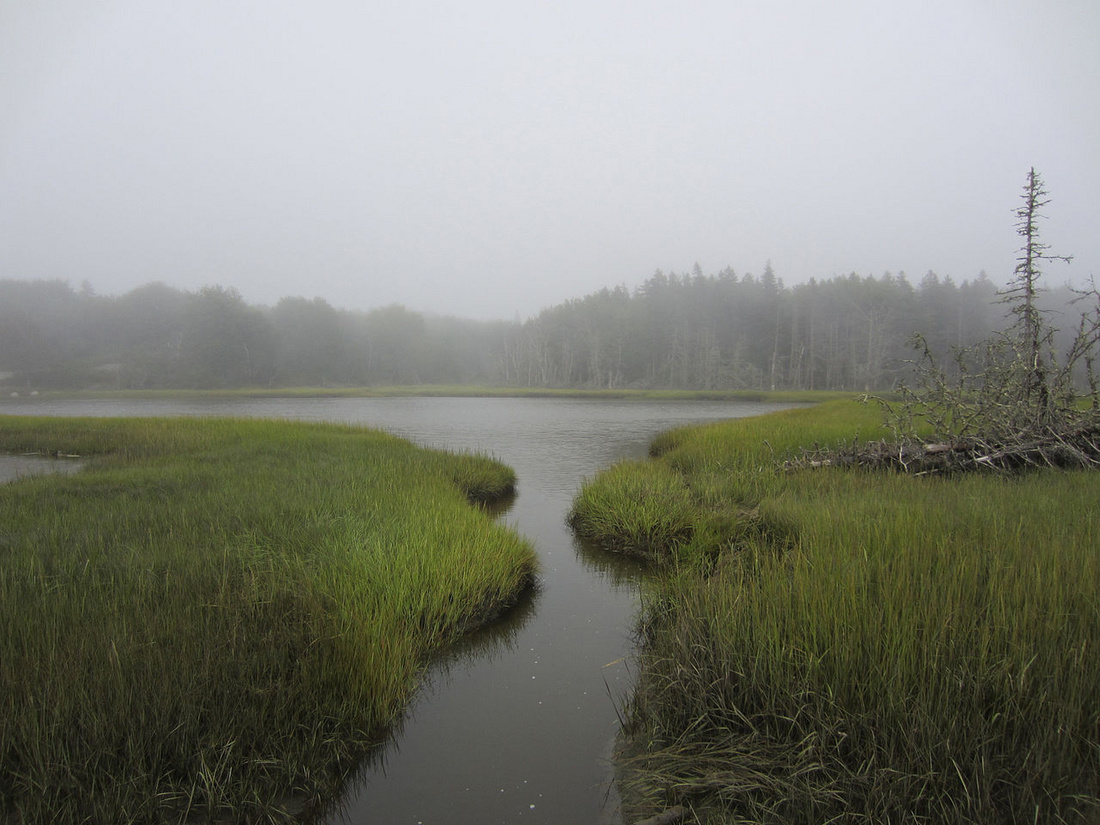 Ecofeminist Aviva Rahmani is known for occupying natural spaces to protest political situations that affect the environment. On October 5th, she will complete her piece Blued Trees for "Gulf to Gulf," a New York Foundation for the Arts-sponsored project that connects climate change policy with art. The project is a direct response to the proposed Algonquin Incremental Market pipeline expansion, in which high-volume, high-pressure fracked natural gas will be pumped through private properties and passed within 105 feet of the ever-controversial Indian Point nuclear power plant. Rahmani found a plot of land in Peekskill, New York, and painted sine waves in blue across a tree grove to represent the musical notes that will then be performed by a full-symphony. She copyrighted the work as site-specific and protected it under the Visual Artists Rights Act (VARA). VARA asserts the "moral rights of art," which Rahmani hopes to employ to indirectly prevent the land from being used for the pipeline. Rahmani's practice aims towards the actionable, and there's still time for the pipeline expansion to be overturned, perhaps due in part to Blued Trees.
For full article see:  Nine Artists Respond to Climate Change
---
A Video Update on the 'Blued Trees' Project:
---
For more information about the value of trees to the environment and the humans who live here go to:
http://www.newyorker.com/tech/elements/what-is-a-tree-worth
---
Aviva Rahmani, the Blued Trees artist, recently wrote:

"The [pipeline company], with very deep pockets, is risking profits against global warming and loss of water for much of the planet, including, incidentally a possible nuclear explosion that would devastate most of the East coast of North America, and the Atlantic ocean. We're risking sanity against personal ruin.If this is going to be a fight at all for human survival, there's a long ways to go . . ."

"These are times of long shot gambles between idealistic forces and right wing, ruthless groups. However, I always come back to a story by Wengari Maathi, of a huge forest fire all the large animals were fleeing. One tiny hummingbird was flying towards the fire with a drop of water in her beak while all the lions and tigers and elephants laughed at her. She replied to them, 'it's all I can do.'"

"We may be forced to go forward . . . as a public demonstration about the ruthless, reckless and corrupt circumstances we're facing. Having the public eye on the stakes would be critical."